Route 66 Side Trip

Flagstaff Auto Courts
The Start of a Route 66 Quest...
Perhaps you can tell me... Back in late 1961, my family and I spent the night at a place west of Flagstaff. It was a little east of where the Interstate being built then veered away from 66 to go around on the south side of Flagstaff. The main building looked like a mountain lodge, complete with a huge stone fireplace. A coffee shop extended from the rear of it and there were ordinary looking cabins behind it where we stayed. The owner said they got a lot of deer hunters during that season, but he wasn't sure what the new Interstate bypass would do to his other business. I wonder if the place is still there. I seem to recall driving through Flagstaff the next day (we were eastbound),
and the Interstate veering off to the south seems right. It was just a roadbed back then.

The coffee shop in 1961 extended rearward from between the check-in counter at the left rear and the rear center of the big room as one looked in from the front door. The white painted cabins I recall were to the right rear of the main building. Beyond was a fairly deep meadow. I believe the lodge was on the north side of the highway.

A simple question from a friend turned into a trip back in time. It was time to do some detective work and try to locate the old auto court my friend stayed at so many years ago. First stop was the Twilight Motel, once known as the Arrowhead lodge...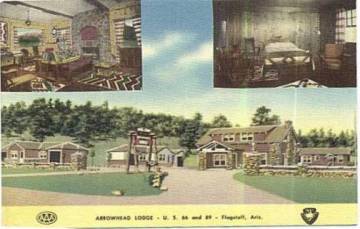 (courtesy the Laurel Kane collection)
1940's Post Card of Arrowhead Lodge on Route 66 in Flagstaff
(Switzer Mesa is in background, notice it also in the modern pictures below)
Now compare these modern pictures taken along Route 66 in June 2001:
The description my friend gave me did fit the Arrowhead Lodge, as it once was called, along old Route 66. It had the stone fireplace and little cabins behind it. But it never had a cafe and it was on the wrong side of Flagstaff. It is on the east side of Flagstaff. If my friend stayed here in 1961 he would have already passed through downtown Flagstaff. This obviously was not the place he stayed at. The good news is that the Arrowhead Lodge is still open and doing a good business still. It is now called the Twilight Motel and still has all the charm of those long ago auto courts of the 1930s and 1940s.


Today the traveler can find this well kept piece of Route 66 on the corner of Arrowhead (was the street named after the lodge?) and Route 66 in Flagstaff, on the north side of the highway too!
I needed to start looking for old auto courts and motels on the west side of Flagstaff, as this is the area I believed my friend to have stayed back in the hey-day of Route 66 before the Interstate came to town.
Kit Carson Camp

Another possibility I thought could be the site of my friend's overnight stay in Flagstaff was the Kit Carson Camp. The camp is located west of Flagstaff on old Route 66. The plaque near the door proclaims it to have been going strong since 1929. This place has certainly seen its share of Route 66 traffic. Jack Rittenhouse mentions Kit Carson in his 1947 guidebook on Route 66. Unfortunately I didn't find out as much about this place as I would have liked. The person behind the desk didn't know anything about the history of the place. One thing is for sure though, I saw no evidence of a stone fireplace. This place was primarily set up to serve the travelers by providing a place to camp. There were no cabins at this site.
Woody Mountain Camp

Down the road from Kit Carson Camp about a mile is the Woody Mountain Camp. This stop turned out to be an unexpected pleasure, and a highlight of my day. I stopped at the little store to see what I could find out. After draining the last cup of coffee in the coffeepot I started talking to the woman behind the counter. I mentioned I was looking for information regarding the history of the Woody Mountain Campground and like magic her whole attitude changed from one of business efficiency to down home charm. Her name was Marjorie Skrobut and she and her husband, Larry, are the owners of the Woody Mountain Campground.

Much to my surprise I found out that there was a whole lot of history surrounding this beautiful oasis in the pines. Marjorie informed me that portions of the building that is now the store was once a part of an old stage stop from the early days of Flagstaff. Woody Mountain itself is an old ranch, which is still in operation I might add. In fact some of the cowboys from the area use this little store as a gathering place on Saturday night for one last cold one before retiring. The little store is a local hangout and has all the atmosphere and charm of a close knit small community. Though it is only a little over two miles from Flagstaff proper it is worlds away in attitude.

In 1952 the owners of the Woody Mountain Store built some small rooms behind the store to service travelers on Route 66. Those rooms are still in existence today, and are still rented out to seasonal visitors. The campground was established about the same time to provide competition to the Kit Carson Camp less than a half mile down the road. The Woody Mountain Camp had a small wood burning stove, but never a stone fireplace as far as Marjorie could remember.
The Woody Mountain Bear

"If you want to take some pictures Guy be sure to get a picture of our bear in the campground" Marjorie said. "It's a local favorite," she added.

" A bear?" I asked.

"There's a story behind our bear you might be interested in. Years ago there was a tree in the middle of our campground. That tree was huge and it was old. I wouldn't be surprised if it was over 400 hundred years old. It certainly was the biggest and the oldest tree around here and for years was used as a landmark for local travelers."

Now I was intrigued. This sounded pretty interesting. I figured there may be a Route 66 story here and I was right.

Marjorie continued, "We used to use that tree to give directions to our campers on how to find their camp site. Tell em to make a right turn or left turn when they got to the big tree. Well the tree finally died, I guess it got backed into by campers one too many times. Of course it was pretty old, that may have something to do with it too. We just didn't have the heart to take that old tree out though. But we didn't know what to do with it until we found an old Cajun woodcarver from Louisiana. We had him carve that old trunk into a bear. People really like it."

I got directions from Marjorie and went off bear hunting. I found it in short order. Another family of campers had found it also and was taking family pictures in front of it as I walked up. It looked like they were having a fun time. I had to admit it was a pretty cool sculpture. I'm glad to see the old tree is still a famous landmark in the area. This unique woodcarving stood pretty darn tall and was a big happy bear holding a Route 66 shield with Woody Mountain carved under it. I don't know how many times I have passed this campground over the years, never stopping, never dreaming of the hidden surprises to be found. Route 66 is sure an adventure, you never know what you may find if only you take the time to look.
Pine Springs/Yellow Freight Motel

While I was talking to Marjorie at Woody Mountain she mentioned that the now abandoned motel across the street (pictured as Pine Springs on my Flagstaff Area web page) did have a cafe but she wasn't sure about a stone fireplace though. She said that the motel was know as Yellow Freight back in the old days and did a good business before the Interstate opened. The Pine Springs/Yellow Freight was more of a truck stop and garage too. The old Pine Springs/Yellow Freight motel is on the north side of the highway, which fits my friend's memory of the place he stayed at.

Now here was a place with a cafe, it was on the north side of the highway, and it was was going strong back in the Route 66 days. Unfortunately there was no evidence of a stone fireplace. In fact looking at the picture at the right there's not much left of the interior at all period. It seems the key to this little mystery is a stone fireplace.
I still haven't found out where my friend had stayed back in 1961. Both Woody Mountain and Kit Carson were going strong back then, and this was the area he stopped at, but there was no evidence of a stone fireplace or cafe at either place. If anyone viewing this page has any ideas I'd sure like to hear them. There is another possibility though; the motel we are looking for no longer exists. The approach to Flagstaff from the west has very little remaining of old Route 66. There are a lot of new businesses, but a noticeable lack of motels. In fact there are none that could be attributed to the days of Route 66 once one passes the Kit Carson Campground. This might mean that these old roadside establishments were torn down sometime in the past. It is an unfortunate possibility. Well anyhow, my quest continues.
---
©(2001) GRandall Web Design Service