[HOME] [WESTERN AMERICANA GALLERY] [ROUTE 66 HOME] [ROUTE 66 WEST] [ROUTE 66 EAST]
A Journey Down Memory Lane
Lexington, Illinois
Route 66 Civic Pride in Chenoa

Chenoa got its start as a railroad town. Matthew Scott laid out the town in 1856. The Peoria and Oquawka Railroad and the Chicago and Mississippi Railroad crossed rails here making the site a perfect on for a town that would survive by the commerce the trains would produce. Later Route 66 would provide an economic base of automobile related businesses. In downtown Chenoa you can see a mural painted on the side of one of its historic buildings. A Chenoa High School student as a city beautification project painted this a few years ago.

Lexington Has Lots of Memories

Lexington is one of the oldest towns in this area. It was founded in 1828 and was named after the Massachusetts battleground. Lexington is another old Route 66 Town that is discovering its rich heritage. As you drive into town you will notice an old Art Deco neon pointing the way. This old "Art Deco" neon from 1949 has been restored and greets travelers on old Route 66 once more.
A New Use for the Old Road: Memory Lane

Lexington has a section of the Mother Road that has been turned into an interpretive walking trail called "Memory Lane." Old signs and original pavement great the Route 66 visitor. A section of Old Route 66 is preserved as a walking trail and park. This is a nice place to take a stroll or sit and reflect on the old road. This section of original Route 66 is quiet now, the better to hear the faint whispers of all who have traveled this celebrated highway of dreams before you.

Plans are in the making to display an old tool wagon at Memory Lane. This is an original, authentic piece of road history. This wagon was used during the construction of Illinois Route 4 between Joliet and Bloomington during the years of 1924-1925. It was used to store tools and served as the timekeeper shack for the construction project. Memory Lane has become a real treasure of Route 66 and will serve to educate generations to come what the early roads in our country were all about.

The Illinois Route 66 Association posted a Roadside Attraction sign here. Good Heavens, that Illinois Route 66 Association is a busy group of people.

The Filling Station Cafe is built out of memories of Route 66. This restaurant was once known as the Mesa Cafe and it really was a filling station on Route 66 too, a Skelly station to be exact. It was built in the 1940s and closed in the late 1970s. Jari Riisberg bought the property in 1982 and gave it new life as the Filling Station Cafe. This is a popular stopping off place for locals as well as travelers alike. The food is mighty tasty too; at least I sure enjoyed my meal here.
On the outskirts of town as your heading west towards Towanda and Bloomington you will notice an old abandoned Drive In on the left. This was once the Oasis Drive In. Now its bays are used as storage for vehicles in various stages of decomposition rather than a great place to pull into on Saturday nights for your favorite burger and shake. It seems like weeds are the only customers now.
Photographs taken June 2003
Click on an area or city of Route 66 on the map below to take a cyber tour of that section of the Mother Road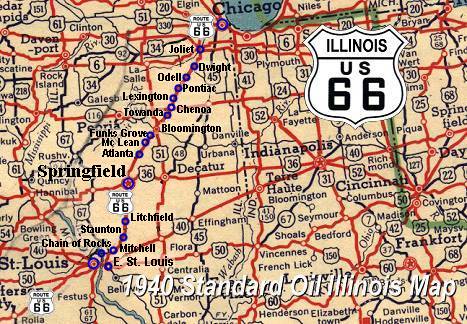 NAVIGATION NOTE: Buckle up and hold on to your mouse! These pages are arranged like the map above, from the western state border to the eastern state border. I have set up this site as if you were traveling from EAST to WEST, much like the Joad family in The Grapes of Wrath. You can click on the Route 66 shields to "travel" the Mother Road in either direction though. Or you can select any shield below to take you to that specific state.

Normal,
Illinois

To Pontiac,
Illinois

---
© Copyright 2001-2004 GRandall Web Design Service