[HOME] [WESTERN AMERICANA GALLERY] [ROUTE 66 HOME] [ROUTE 66 WEST] [ROUTE 66 EAST]
| | | |
| --- | --- | --- |
| | Staunton Area | |
Hare It Is! Henry's Rabbit Ranch

Staunton, Illinois was platted in 1835 so it has been around for a pretty long time. A drive through its historic downtown district is like stepping back one hundred years - as is the case with so many historic Illinois towns. For the fan of Route 66 Staunton holds a special treat though. You can't go through Staunton without stopping by Henry's Rabbit Ranch. Henry's Rabbit Ranch is located on the old 1930 - 1940 alignment of Route 66 through the area. You can't miss it, just look for the bright "Hare It Is" sign. That sign is a play on the famous "Here It Is" sign from the Jackrabbit Trading Post on Old Route 66 in Arizona.
Rich and Linda Henry love Route 66! They have an inside track on the Mother Road too, having grown up in her celebrated shadow. In fact, both Rich and Linda's fathers are both inductees in the Illinois Route 66 Hall of Fame. Henry's Rabbit Ranch is their contribution to America's Main Street. Their visitor center in Staunton, Illinois is a replica filling station that can even fool the pros. It is kind of a funny story too. Seems that last year the EPA came around to Henry's Rabbit Ranch and wanted to know where the buried tanks were! Rich had a heck of a time trying to convince these professional pollution monitors his structure never was a gas station, in fact it's less than ten years old! In all fairness to our government servants, I thought Henry's Rabbit Ranch had been an old filling station too. Rich did a pretty good job on simulating an old filling station wouldn't you agree?

About ten years ago Rich and Linda took a trip to California on Old Route 66 and noticed the lack of Route 66 visitor centers and souvenirs of the Mother Road. When he got back home to Staunton he decided to do something about that and built his visitor center. Times have changed and Route 66 is seeing a rebirth all along the highway, and Henry's Rabbit Ranch was at the forefront of this movement. Henry's Rabbit Ranch, though new in terms of the Mother Road, maintains the best traditions of Route 66. This is what it's all about.
Now about those rabbits, seems Rich and Linda's daughter got a pair of rabbits and didn't account for the resulting population explosion. She lived in a single room apartment and things were getting a little out of hand. Rich stepped in and helped out and the next thing you know there was a new attraction on Route 66 - a rabbit ranch. When you visit Henry's Rabbit Ranch be sure to look up Montana. Montana is sort of the ring-leader of the rabbit gang. She's quite a character too. She'll greet you as you enter Rich's store and if she's feeling particularly frisky she'll perform tricks for the Route 66 visitor. Montana is quite a Route 66 ambassador.

This original "Snortin Norton" tractor trailer is but one of the cool items to be found at Henry's Rabbit Ranch. The Snortin Norton 66 Camel was a familiar sight on Route 66 until the company closed in the 1980s.

Rich Henry and the ever playful Montana greet visitors from all over the world at Henry's Rabbit Ranch and Old Route 66 Emporium in Staunton, Illinois.
The Battle at DeCamp Junction

Another roadhouse in another Route 66 town, DeCamp Junction has a fascinating and somewhat colorful history. It is located just outside of Staunton, Illinois in what used to be a small coal mining settlement. All that is left of the town is the roadhouse. Originally the building stood across the road and was built from a Montgomery Ward kit. The building was purchased in 1931 by Alois and Elnora Duda and moved to its present location. A north wing, a south wing and upstairs living quarters were added. They removed the partitions in the original home to create a dance floor. The business was opened as a restaurant and roadhouse and has become a Route 66 icon.
Loran Kovaly now owns and operates the old Duda Restaurant. The DeCamp Junction has a new reputation in town ~ they serve the best pizza!
Perhaps one of the most exciting gangster events to happen in the area came about in the 1930s when a large black sedan rolled up out front of Duda's Restaurant. Several gangsters burst into the roadhouse with guns drawn and ordered everyone outside. Once outside they had everyone lay spread out on the ground. The thieves then ransacked Duda's Restaurant and took cash, slot machines, booze and the Duda's private gun collection. The story is told that one of the gangsters counted the people outside on the ground and came up with thirteen people. At that he remarked that thirteen was an unlucky number and he was going to shoot someone. Fortunately they didn't and no one was harmed. Five-year old Leroy Duda was there at the great raid but hid under a feather mattress upstairs. Leroy is still alive today and lives in Staunton. Boy has he seen a lot of changes on Route 66 along this stretch!
Photographs taken June and September 2003
Click on an area or city of Route 66 on the map below to take a cyber tour of that section of the Mother Road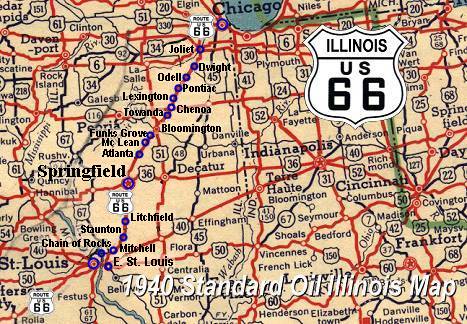 NAVIGATION NOTE: Buckle up and hold on to your mouse! These pages are arranged like the map above, from the western state border to the eastern state border. I have set up this site as if you were traveling from EAST to WEST, much like the Joad family in The Grapes of Wrath. You can click on the Route 66 shields to "travel" the Mother Road in either direction though. Or you can select any shield below to take you to that specific state.

To Michell,
Illinois

To Litchfield

---
© Copyright 2001-2004 GRandall Web Design Service