Missouri
Route 66
| | | |
| --- | --- | --- |
| Go to Route 66 State: | | |
---
I found Missouri fascinating. This western desert dweller was in awe of the beautiful forested rolling hills of the well-watered Ozarks. I was a tourist all the way. The people I met in Missouri were great and the history of the Mother Road revealed itself around every bend in the road. Starting at St. Louis on the Mississippi River and winding its way through the hills of the beautiful Ozarks then on to the rich farm country of western Missouri, Route 66 is a delight for the road wanderer. Missouri has a lot of history that predates Route 66 of which the road wanderer still can experience when the Interstate is left behind. Route 66 follows a much older trail through Missouri, the Great Osage Trail a major Indian path across the state. This trail was used by Native Americans, outlaws, pioneers, the railroad and later the road builders of the early Twentieth Century. Yes, Route 66 has a proud legacy in Missouri.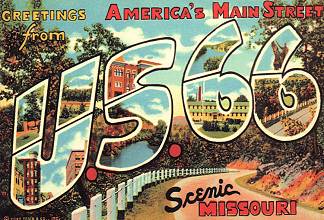 One of the most famous Native Sons of Missouri is perhaps Jesse James. He road the trails and byways of Missouri long before the celebrated highway, Route 66, came to intersect the very heart of this beautiful country. Even today the stories of the notorious outlaw persist. Tales of buried loot and outlaw hideouts seem to haunt the forgotten glens and hollows of the Ozarks. One such place is the famous Route 66 attraction of Meramec Caverns; purported to be one of old Jesse's hideouts.


Just a nice Missouri boy ...
Jesse James

Meramac Caverns is one of the best known of all Route 66 tourist stops. Lester B. Dill, owner and promoter made the name of Meramec Caverns famous all along the Mother Road. His marketing schemes have influenced advertising even to this present day. In 1935 Lester started what would become an American institution, the bumper sticker. Countless travelers criss-crossed the U.S. with the name of Meramec Caverns pasted to their bumpers. Not only did Lester's bumper stickers advertise his caverns, but also many a rural barn proclaimed its wonder on their roofs. Lester would approach the owners of weather beaten barns and offer to paint them for free if they would allow him to advertise Meramec Caverns on the roofs. During the hey-day of Route 66 for hundreds of miles in either direction the roofs of old barns were painted as huge signs advertising this underground wonder, providing a unique billboard for the Mother Road. Even Jack Rittenhouse mentions it in his famous 1946 guidebook to Route 66 as a site not to miss. Today the Meramec Caverns are still going strong, providing the modern traveler a bit of pleasant diversion.
Missouri is home to some famous Route 66 icons too. The famous Chain of Rocks Bridge, now preserved as a historic landmark, crosses the Mississippi River into Missouri. In St. Louis you'll find Ted Drew's Frozen Custard, serving Route 66 travelers since 1929. Old diners and classic motor courts can be found tucked away throughout the state along the original alignments of Route 66. The astute traveler can get glimpses of the way things used to be on America's Main Street. A short drive through Halltown will transport the highway explorer back to the early days of the last century. The fading and forgotten cabins of the old Route 66 motor court of John's Modern Cabins just west of Rolla are a haunting image of another time in our country's history. It was a slower time back then before the Interstates came through. Amidst the splendor of the Ozark countryside you can almost get transported back in time to those days at John's Modern Cabins. Stop awhile and absorb the atmosphere of all Route 66 in Missouri has to offer.


Famous Chain of Rocks Bridge


Steel Truss Bridge across the Big Piney River
at Devil's Elbow, Missouri.

Another famous Missouri Route 66 legend is Devil's Elbow and the Big Cut area of the Mother Road. Once this stretch of the road was one of the most feared and dangerous sections of old Route 66. Today it is a pleasant stop in a beautiful park-like setting along Route 66. The picturesque Big Piney River is set amongst the beautiful Ozark Hills and it is easy to see why Devil's Elbow was once a favorite resort town in the 1930s and 40s. I believe this area has become one of my favorite places in Missouri.


Hooker Cut near Devil's Elbow
Another quiet stop along the old road is Times Beach just west of St. Louis. Originally founded in 1925 as a promotional scheme by a St. Louis newspaper, the Star-Times. The newspaper gave away 6-month subscriptions to all that bought lots in this new resort community. Times Beach was a popular get away resort on the Meramec River. It might have remained a quiet, sleepy little community away from the hustle and bustle of St. Louis except for a tragic incident in the early 1970s. The dusty streets were sprayed with waste oil that later was determined by the EPA to contain dioxin. The entire town of Times Beach was contaminated and the residents were forced to evacuate, losing their homes and property. By 1986 Times Beach was no more. Today the pollution has been cleaned up and the site of Times Beach is now the Route 66 State Park and Museum.


Wrink's Market in Lebanon

Stop and visit the small towns along Route 66 in Missouri. You will discover something new around every bend. Lebanon has the famous Wrink's Market and the classic Munger Moss Motel both of which have been serving Route 66 travelers for more than 50 years. Though I've tried to be as complete as possible with my cyber journey through Missouri, it is truly only a primer for the road wanderer. There is so much to see and I know I've missed much. But that's okay, it just means that I'll have many more exciting adventures along Route 66 in Missouri on future journeys. Missouri is a Route 66 explorer's dream. Plan to stay awhile and see the great sights.




Boots Motel in Carthage
Photographs taken September 2002 and June 2003
Click on an area or city of Route 66 on the map below to take a cyber tour of that section of the Mother Road

NAVIGATION NOTE: Buckle up and hold on to your mouse! These pages are arranged like the map above, from the western state border to the eastern state border. I have set up this site as if you were traveling from EAST to WEST, much like the Joad family in The Grapes of Wrath. You can click on the Route 66 shields to "travel" the Mother Road in either direction though. Or you can select any shield below to take you to that specific state.

West Route 66
Joplin

East Route 66
St. Louis

---
© Copyright 2003 GRandall Web Design Service