[HOME] [WESTERN AMERICANA GALLERY] [ROUTE 66 HOME] [ROUTE 66 WEST] [ROUTE 66 EAST]
Williams &
Route 66
---
Pittman Valley & the Deer Farm Road

Back on Route 66 again, I sped down the road past the Oak Hill Recreation area into Pittman Valley. There is a fine old log house here. This classic house is also visible from the Interstate, which is close to Route 66 at this point. For almost 15 years I had passed this house and always intended to take some pictures of it. It really is that unique of a structure, a real eye catcher. Today I made good on my promise to myself and stopped. I'm learning not to put off till tomorrow what you can do today. I didn't want to repeat my Bellemont mistakes and miss an opportunity to capture on film this little piece of history. Jack Rittenhouse mentions a Wagon Wheel Lodge in this area that was built of logs. I wonder if this structure could be the lodge?
I took my pictures of this great old house and continued on towards Deer Farm Road, which was once Route 66. For those of you that are interested, this photograph is also available in a larger size on my Gallery Page. It makes a great desktop image.
Davenport Lake Offers Premier Fishing?

When is a lake not really a lake - at least most times? That would be Davenport Lake on the way into Williams. The 1941 alignment of Route 66 and Interstate 40 both pass through the middle of this lake, on opposite "shores" of course. Every once in a while during a particularly wet year, this dry lakebed comes alive, and is indeed a lake. I've been travelling this route for over 15 years and once back in the early 1990's I actually saw water here. In fact it had been such a wet year that the lake was full enough to be lapping at both sides of the Interstate!
Williams - The Last Town Bypassed by the Interstate

October 13, 1984 (I wonder if it was a Friday) the last remaining stretch of Route 66 was bypassed by the opening of a six mile segment of nearby Interstate 40. But Williams lives on. It is another true Route 66 town. Williams not only survived but is at the heart of a Route 66 revival. The downtown area has been cleaned up; new streetlights, fresh paint, and sidewalks have brought the town back to life. The community takes pride in its special relationship to the Mother Road and it shows.


Williams Then...

and Williams Now - Same Building!

Williams was named for one of the most colorful of all Mountain Men, Old Bill Williams. Though it is debated whether he ever was in the area of the town and mountain that bears his name, it is a well known fact that he was "acquainted with every inch of the Far West" as he would have put it. Williams was founded in 1876 and nothing much happened here until the railroad arrived in 1882. In 1901 the Santa Fe Railroad laid tracks from Williams to the Grand Canyon and insured Williams' claim as Gateway to the Grand Canyon.
The Grand Canyon Railroad reopened in the late 1980's and started running train tours to the Grand Canyon from the beautiful Frey Marcos Harvey House and Depot which has been restored to its former grandeur. The Grand Canyon has always been a Route 66 destination though it is located 50 miles from the Mother Road. Route 66 was always the primary highway vacationers used to get there.

Grand Canyon Railroad is now ready for the adventure of a lifetime. Williams has truly become the gateway to the Grand Canyon.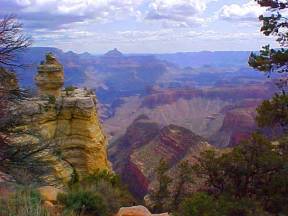 Downtown Williams Still has all the Glory of the Mother Road

Route 66 souvenir shops offer every imaginable piece of memorabilia of the old road. There are plenty of fine motels and cafes that bring back the flavor of Route 66 in its hey day. Williams is a great place to stop and explore and maybe even stay a day or two if you have the time.

Step back in time to the simpler days in Williams
| | | |
| --- | --- | --- |
| Spend Some Time in Williams, and check out the sights. There's plenty to see in this old Route 66 Town. | | Browse the Streets and say hi to the locals. You won't be sorry you did, I guarantee. |
And Then There's Pine Springs, Arizona

Pine Springs gave the eastbound Route 66 travelers their first glimpse of Arizona's cool, alpine high country. I can only imagine what a relief it was to be finally out of the desert and the summer heat. Jack Rittenhouse describes the settlement as having a gas station and some log cabins. When I was there I saw no evidence of the old gas station or the old lodge. There are many alignments of Route 66 in this area, some are impassable now, and others are restricted to bikes only. The area is well worth exploring though. Take the Devil Dog exit from I-40 and go south for about two miles until you come to the 1931 alignment of Route 66.

If you make a right turn you will come to the Pine Springs Ranch. Pine Springs Ranch is a private residence and not a tourist site or lodging facility.
Photographs taken May 2001, May 2003
---
Click on an area or city of Route 66 on the map below to take a cyber tour of that section of the Mother Road

NAVIGATION NOTE: Buckle up and hold on to your mouse! These pages are arranged like the map above. I have set up this site as if you were traveling from EAST to WEST, much like the Joad family in The Grapes of Wrath. You can click on the Route 66 shields to "travel" the Mother Road in either direction though. Clicking West Route 66 or East Route 66 will take you to the next town or area on the map in that direction. Or you can select any shield below to take you to that specific state.

To Ashfork

To Parks, Bellemont and the Pine Country

---
© Copyright 2003 GRandall Web Design Service