[HOME] [WESTERN AMERICANA GALLERY] [ROUTE 66 HOME] [ROUTE 66 WEST] [ROUTE 66 EAST]
Not Just a Bump in the Road
Dwight, Illinois
Dwight is a pretty cool town. Dwight was founded in 1854 there's a lot more to this town than first meets the eye. Dwight's motto is "Not just a bump in the Road" and that is so true. This is a great town to explore. There's so much to see here I would suggest that if you are coming through the area make plans to stop and allow plenty of time to explore the many sights to been seen.
When Route 66 came through here in 1926 it bypassed the downtown district and newer roadside businesses sprang up along the old Mother Road. If you enter Dwight from the direction of Gardner on old Route 66 you will see Ambler's Texaco Station on the left. Ambler's was built in 1933 and has been servicing the Route 66 traveler ever since. It was in operation pumping Marathon gas until 1998 and ranks as one of the longest operating stations on Route 66.
When I came through here back in June 2003 it was in the process of being restored. The gas tanks had been removed and the ground was being cleaned up to meet EPA standards. Soon Ambler's will service the Route 66 wanderer as a Route 66 visitor's center and gift shop.
As you drive down Route 66 in Dwight you will notice many structures left over from the 30s – 50s. Dwight is proud of its Route 66 heritage and it shows. But you don't want to leave Dwight just yet. A trip through downtown Dwight should be on the top of any road explorer's list.
Dwight's Historic Downtown

If you are into fantastic architecture then Dwight's the town for you. Dwight has some wonderfully preserved buildings that date back to the turn of the last century. Downtown Dwight boasts a beautiful stone railroad depot built in 1891, the First National Bank building designed by Frank Lloyd Wright in 1905, and the William W. Fox Developmental Center, once the Keeley Institute, with its priceless stained glass windows depicting the five senses.


First National Bank Building (left)


Dwight RR Depot

The Keeley Institute was a home for recovering alcoholics and drug addicts. The original building was built in 1891 but burned in 1902. It was rebuilt in 1903. While you are exploring Dwight be sure to check out the distinctive old Windmill, built in 1896 and of course visit the Dwight Historical Museum now housed in the old railroad depot. I think you'll agree, there's more to Dwight than first meets the eye and it's "Not just a bump in the Road."

The Fox Development Center (old Keeler Institute) and an example of the beautiful stained glass windows.
Lonely Pre-66 Relic

Leaving the town of Dwight going west there is a small cemetery on the right. Quite camouflaged by the marble grave markers around it you can find an old state route marker that actually predates Route 66. You'll have to look hard though, I'm sure many a passerby mistakes it for another tombstone.
Photographs taken June 2003
Click on an area or city of Route 66 on the map below to take a cyber tour of that section of the Mother Road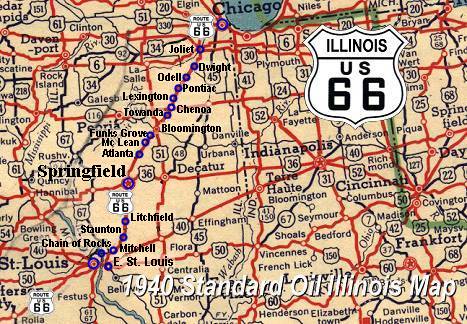 NAVIGATION NOTE: Buckle up and hold on to your mouse! These pages are arranged like the map above, from the western state border to the eastern state border. I have set up this site as if you were traveling from EAST to WEST, much like the Joad family in The Grapes of Wrath. You can click on the Route 66 shields to "travel" the Mother Road in either direction though. Or you can select any shield below to take you to that specific state.

To Odell Station

To Joliet, Illinois

---
© Copyright 2001-2004 GRandall Web Design Service