[HOME] [WESTERN AMERICANA GALLERY] [ROUTE 66 HOME] [ROUTE 66 WEST] [ROUTE 66 EAST]
Odell and
the Odell Station
Odell has some classic Route 66 structures and history and is a picturesque small Illinois town. As you enter the town from Dwight you'll pass an old Mobil Station on the right, now closed. This is a familiar station design dating back to the 1950s and speaks of Odell's Route 66 heritage. Next door, old vintage gas pumps adorn the yard of a house. Odell is proud of its Route 66 heritage.

A block down from the old Mobil station an old Catholic Church stands along Route 66. During the golden era of Route 66 there was a tunnel under Route 66 right here between the school and church. The tunnel was constructed because traffic was so heavy on the old road. It allowed children and adults alike safe passage to and from the church. It was filled in after Route 66 and Odell was bypassed by the Interstate. Perhaps the real gem at Odell is the newly restored Odell Standard Station - another successful project of the Illinois Route 66 Preservation Committee.
Beautiful Odell Station

This beautiful old gas station was built in 1932 and served travelers on Route 66 until the mid 1960s when it stopped selling gas. This station then was used as a body shop until it closed its doors in 1975. Years of neglect took their toll on this old Standard station. The station would have disappeared if it had not been for the preservation efforts of the Illinois Route 66 Association and their Preservation Committee. A total of $55,000, from grants, matching funds and donations was raised to restore this station to its former glory - not bad for a grass roots effort.
John and Lenore Weiss were the driving force behind this restoration. These two, along with the dedicated volunteers from the Preservation Committee, did what others said couldn't be done. Hampton Inn® even donated $10,000 for this worth while project. In fact it could be said that the Odell Station preservation project was the start of Hampton's interest in Route 66 with their Save-A-Landmark® project. Now this station has been restored to its former glory. The Odell Station may not sell gas anymore, but it has become a Mecca for the Route 66 road wanderer and is the focus of many car rallies and motorcycle tours. It also makes one heck of a photo opportunity as I hope you can tell from these pictures.
Photographs taken June 2003
Click on an area or city of Route 66 on the map below to take a cyber tour of that section of the Mother Road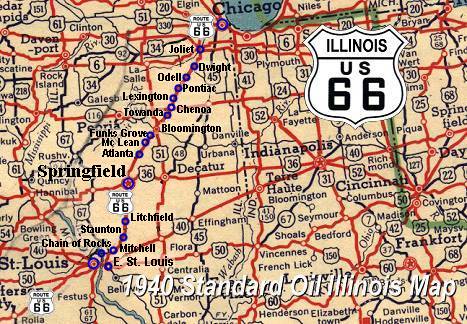 NAVIGATION NOTE: Buckle up and hold on to your mouse! These pages are arranged like the map above, from the western state border to the eastern state border. I have set up this site as if you were traveling from EAST to WEST, much like the Joad family in The Grapes of Wrath. You can click on the Route 66 shields to "travel" the Mother Road in either direction though. Or you can select any shield below to take you to that specific state.

To Historic
Pontiac, Illinois

To Dwight,
Illinois

---
© Copyright 2001-2004 GRandall Web Design Service