[HOME] [WESTERN AMERICANA GALLERY] [ROUTE 66 HOME] [ROUTE 66 WEST] [ROUTE 66 EAST]
Funk's Grove
Real Maple Sirup
If you are traveling west on Route 66 from Bloomington, about four miles beyond Shirley, Illinois, you will come to Funks Grove Road. Turn right here! This is a secret place that many people miss on their way to Funks Grove Sirup Camp a half mile further up Route66. Most people pass the turn off to this little gem. The small hamlet of Funks Grove offers many photographic opportunities. The Old Country Store and Shirley Railroad Depot can charm the lens cover off most cameras. If you travel about a mile beyond the Depot you will find Funks Grove Church which dates back to 1845.


Funks Grove Old Country Store
Funks Grove is a pleasant place amidst a hectic world. In the stillness of the grove it's hard to believe that the Interstate with its frenzied traffic is just a couple of miles away. You are in a different world here. But now you know all about the less traveled road that will take you to yet another magical place. A place to rest and gather your strength. I would have to say that Funks Grove is one of my favorite places along Route 66 in Illinois. There's timelessness about this place that goes back almost two hundred years. It has a fascinating history too.


Old Shirley Depot in Funks Grove

A Family Tradition in Funks Grove

In 1824 Isaac Funk found a large stand of native Maple trees growing on the Illinois prairie here. Being a foresighted man he located his farm in the grove and set about building a family business that has lasted almost 180 years! Little did Isaac know that a hundred years later a celebrated highway would pass by his front door! I would hazard to say the Funk's family business just might be the oldest family business along all of Route 66!

In the early years, Isaac and his sons started making maple sirup for personal use. They cooked the sap down in kettles over a fire. In 1860 Isaac's son, Isaac II, took over production of the maple sirup. Arthur Funk, Isaac II's son opened the first commercial sirup camp here in 1891.

Lawrence, Arthur's brother, took over production in 1896. The reins of control were passed to Hazel Funk Holmes in the 1920s. It was during this time period that Route 66 was finished near the sirup camp. Foresight must run in the Funk family because Hazel arranged for her timber and farmland to be protected by a trust insuring that the Funks Grove Pure Maple Sirup would be around for generations to come. In this same trust she expressed her wish for the traditional spelling of sirup with an "i" to be used. In her honor the Funk family still uses that spelling today. See I didn't misspell sirup at all!


Funks Grove Sugar House


Debbie and Mike Funk

In 1947, Stephen Funk, son of Lawrence, and his wife Glaida, took over the operation. Stephen and his son Mike formed a partnership in the late 1970s. Stephen and Glaida retired in 1988 and Mike and his wife Debby took over the business. The sugar house now being used was built in that year and continues to serve as the heart of the operation as well as a great little gift shop too. Debby and Mike Funk continue the fine family traditions lay down by previous generations of Funks at Funks Grove.
The famous grove is one of the prettiest places along Route 66 in Illinois. Even the Illinois DOT realized this when they built the Interstate for they located a rest area in Funks Grove also. The Illinois Route 66 Association has set up a fine exhibit on Route 66 at the Funks Grove Rest Area too. If you must travel the super-slab at least you can stop at the rest area to savor the atmosphere of the place and check out the cool Route 66 exhibit to boot.
The Dixie Trucker's Home in Mc Lean

About 3 miles from Funks Grove on west bound Route 66 you will enter the small town of Mc Lean. There is a pretty famous Route 66 icon located here, the Dixie Truckers Home. The Dixie Truckers Home is almost as old as Route 66 itself. In 1928 J.P. Walters and John Geske rented a quarter of a mechanic's garage on Route 66 to sell sandwiches to truckers and passing motorists. The fledgling restaurant had a counter and 6 stools when it began. By the mid 1930s things had changed.

By the 1930s the Dixie Truckers Home was a full-fledged restaurant. It also had cabins in the back and a cattle pen. The cattle could get their exercise while the trucker ate his food. The Dixie Truckers Home was a popular place during the thirties. On weekends they would provide live entertainment and music. People flocked from all around to spend some time at the Dixie Truckers Home. Those parties became a memory after W.W. II broke out.

The restaurant and gas station has been open continuously since 1928 and is still run by the family today. In 1965 the restaurant burned, but that didn't stop John Geske. He used one of his cabins to operate the Dixie Truckers Home while the new restaurant was being built. This is the restaurant that is still being used today.
Today John's daughter, C.J and her husband Chuck Beeler own the Dixie Truckers Home. But John still drops by to check on things, he's 98 years old, retired, but still involved. The forth generation of family, Nicole and Michael work at the Dixie too. This is truly another family business on Route 66 than spans generations. Thanks to the significant contribution that John, C.J., Chuck, Nicole and Michael have made at the Dixie Truckers Home the Route 66 experience is alive and well in Mc Lean. Thanks guys
Historical Note: I came through Mc Lean in June of 2003 and everything was pretty much as I wrote above, but times change and even the old Mother Road continues her evolution into the future. In late July 2003 the Dixie Truckers Home closed its doors. John Geske passed away in July and due to financial difficulties Chuck and CJ Beeler, owners of the Dixie, announced they had no choice but to sell the Dixie Truckers Home. The fate of the Dixie Truckers Home remains uncertain. A new company has purchased the property and has changed the name to the Dixie Travel Center, but whether they will keep the historical Dixie intact or change this truck stop into a modern generic clone of a thousand other truck stops along the Interstate remains to be seen. It is with great sadness that we mourn the passing of another irreplaceable icon of the Mother Road, the Dixie Truckers Home.
Photographs taken June 2003
Click on an area or city of Route 66 on the map below to take a cyber tour of that section of the Mother Road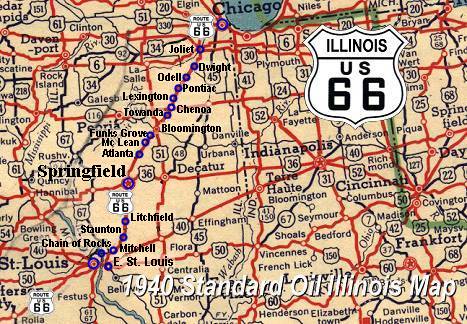 NAVIGATION NOTE: Buckle up and hold on to your mouse! These pages are arranged like the map above, from the western state border to the eastern state border. I have set up this site as if you were traveling from EAST to WEST, much like the Joad family in The Grapes of Wrath. You can click on the Route 66 shields to "travel" the Mother Road in either direction though. Or you can select any shield below to take you to that specific state.

Central Illinois
Route 66 Towns

A "Normal"
Route 66

---
© Copyright 2001-2004 GRandall Web Design Service