[HOME] [WESTERN AMERICANA GALLERY] [ROUTE 66 HOME] [ROUTE 66 WEST] [ROUTE 66 EAST]
Speed Zone ~
Historic Buildings
Historic Atlanta ~ Illinois That Is.

Once again I was cruising down the road looking for remnants of the hey-day of Route 66. As I approached the town of Atlanta I saw the speed zone sign. But this one was different. I plainly read, "Speed Zone - Historic Buildings." That was different! Quite confident that I wouldn't be in any danger from any wayward historic buildings that suddenly ran out in the road in front of me, I still proceeded with caution. My curiosity was piqued, I just didn't know what to expect. When I did see Atlanta, I instantly liked the town. Those historic buildings are well kept and fascinating. This is another unique town full of great photo shots.


J.H. Hawes Grain Elevator ~ 1903

The Atlanta Public Library was built in 1908 with a style of architecture based on the Neo-Classic design of the 1840s with high ceilings and a domed rotunda. In 1973 a museum of local history was added. This building is quite impressive. Nearby there is an old wooden grain elevator. This is the J.H. Hawes Elevator, built in 1903, and is the only fully restored elevator of its type in Illinois. Both the Atlanta Public Library and the J.H. Hawes Elevator are on the National Register of Historic Places. There's a classic clock tower next to the Public Library and Museum too. The clock mechanism is a 1909 vintage Seth Thomas. Originally this was the Atlanta High School clock. Now it has been moved and preserved for future generations to enjoy next to the museum. I've driven through many Route 66 towns all of them great in their own way but I found that Atlanta has a style and uniqueness all its own.
Atlanta began as the settlement of Newcastle in 1854. Unfortunately the location of this small village was over a mile away from the railroad tracks and the station stop known as Zenia. Town fathers decided to do something about this. They couldn't move the railroad so they did the next best thing - they packed up and moved the town in 1855! The "powers that be" at the time decided a new name was needed also. After some deliberation the name of the new town became Atlanta.

Across the street from the historic downtown Atlanta buildings a new Route 66 Park has been constructed. This park celebrates the heritage of Route 66 in Atlanta, the town that is known as the geographic center of Illinois on Old Route 66.

The Route 66 Park will also become the home of the famous Route 66 Bunyon Giant from Cicero, Illinois. Another fiberglass giant from the hey-day of the Mother Road, for 37 years the Bunyon Giant, holding an enormous hot dog, once drew customers into the Bunyon Drive In. The passing of time had not been kind to this Mother Road relic. When the drive in closed the giant was in danger of being lost forever. In stepped the Illinois Route 66 Preservation Committee to save the day. The Bunyon Giant has been restored and now will become a part of Atlanta's proud Route 66 heritage.

Atlanta is proud of its Route 66 Heritage. Its historic preservation efforts are obvious. This was truly a main street that conjured up images from Norman Rockwell and strangely, the movie "Back to the Future." It must have been the clock tower.
Broadwell and the Pig Hip

As I drove down Old Route 66 through the countryside I was relaxed and enjoying my stroll down the two lane. Farms and barns, fields and ponds, and a glorious blue sky added to the peace and tranquility of the moment. This was Route 66 in all its glory. Route 66 parrallels the Interstate at this point and I could see it off in the distance; the 18-wheelers lined up one after another with tiny cars dodging in and out like ants in one frenzied mass movement towards the horizon. I was happy. Happy I wasn't among them jockeying for position in the fast lane, tense and ever watchful. I pulled in the small town of Broadwell and saw another Route 66 road icon. I pulled over to investigate. It was the Pig-Hip Restaurant, and up until now I had only read about it.


Francis and Ernie Edwards

Broadwell, Illinois is home to the famous Pig-Hip Restaurant, a well known road icon for half a century. Back in 1937 Ernie Edwards started his roadside business and served a nation on the move. He ran the Pig-Hip until 1991 when he closed. As Ernie put it, "I was getting pretty tired and knew it was time for a break. "The Pig-Hip is open again these days, but not as a restaurant. With the help of the Illinois Route 66 Association Preservation Committee it has become a Mother Road Museum. Frances and Ernie Edwards now greet travelers with smiles instead of burgers.

Die Cast Motors in Williamsville

The Die Cast Auto Sales in Williamsville on Route 66 was a pleasant surprise. This was once a real gas station on Route 66. If these walls could talk! Jackie and Frank Kohlrus own the Die Cast Auto Sales in Williamsville. They have one of the largest collections of hard to find die cast models I've ever seen. This is a place for collectors! I may not be able to afford a real vintage automobile from the old days, but I can afford to buy one here for my library shelf. You don't even have to buy a car to enjoy their Route 66 themed store either. Stop on in and say hi, you won't regret it. Who knows maybe you'll leave with a replica of your first car, or the car your family took vacations in on Old Route 66.
Photographs taken June 2003
Click on an area or city of Route 66 on the map below to take a cyber tour of that section of the Mother Road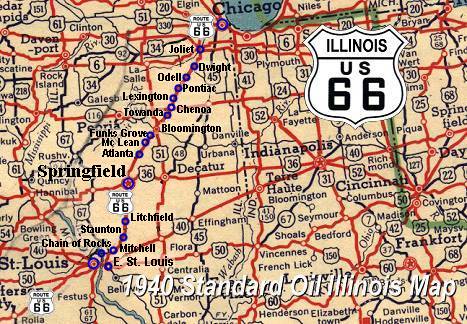 NAVIGATION NOTE: Buckle up and hold on to your mouse! These pages are arranged like the map above, from the western state border to the eastern state border. I have set up this site as if you were traveling from EAST to WEST, much like the Joad family in The Grapes of Wrath. You can click on the Route 66 shields to "travel" the Mother Road in either direction though. Or you can select any shield below to take you to that specific state.

To Lincoln
Country

To Funk's Grove

---
© Copyright 2001-2004 GRandall Web Design Service