[HOME] [WESTERN AMERICANA GALLERY] [ROUTE 66 HOME] [ROUTE 66 WEST] [ROUTE 66 EAST]
Lincoln's Town
Springfield, Illinois

The Old State Capitol in Springfield

Springfield, Illinois is a very historical town. It is also the Capital of Illinois and they are very proud of their heritage here. The historic district has wonderful examples of nineteenth century architecture all carefully preserved for the modern explorer wishing to get a glimpse of what it must have been like once in another time ~ another era. Elisha Kelly established a small settlement here in the Sangammon River Valley in 1821. When Sangammon County was created this was the only town of any size in the area and it became the county seat. The name Springfield derives from Spring Creek and one of Kelly's original fields. Springfield became the state capitol in 1837, that was the same year a young skinny lawyer from rural Illinois moved to town. His name was Abraham Lincoln and he was to someday shape the destiny of a nation.
This is the "Land of Lincoln" and you can walk the same streets and visit the same places that Abraham Lincoln walked and visited. A stroll through downtown Springfield is a trip back in time fraught with all the drama, tragedy and triumph of a nation in turmoil. Here you will find the Old State Capitol building where Lincoln delivered his famous "House Divided" speech. These certainly are hallowed halls! The Lincoln House has been preserved as it was from the days of Abraham Lincoln. After the tragic assassination the house was donated to the American people for all time as a way of remembering a great man. The Lincoln Tomb is an awesome monument to one of the greatest men in American history. And a tribute to the strength of a nation even through the tumultuous Civil War. When I toured this historic monument I was in awe and profoundly moved. All I can say is that for me it was a spiritual experience.
Springfield not only is proud of its connection to Abraham Lincoln, its beautiful 19th century architecture and the aura of history that hangs in the air as you walk down her streets, but also recognizes the important role Route 66 has played in her 20th century development. Each year Springfield holds the International Route 66 Festival where thousands gather to celebrate the Mother Road, show off their vintage automobiles and step back in time to the 1950s with a celebration of Rock and Roll, bobby socks and poodle skirts. The festival is a city wide event that centers around the Old State Capitol. If you are in the area the last week in September you owe it to yourself to check it out.


Guy Randall & star of the old TV series Route 66 ~ Martin Milner at the 2003 Springfield Festival.

Bill Shea has been on Route 66 a long, long time.

No trip to Springfield would be complete with a stop at Bill Shea's vintage filling station. Bill Shea has been running his business for over half a century here. Originally Shea's was a working gas station and garage on Route 66 but over the years something wonderful happened. It became a monument to Route 66 and those wonderful old time gas stations that once lined America's highways in the pre-Interstate era.

Over the years Bill has been able to amass a large collection of vintage gas pumps and other filling station memorabilia. Bill even saved and then moved another old gas station onto his property. Drop in for a while to peruse his collection and perchance hear some great stories of Route 66.

Bill Shea's ode to the classic filling stations of yesteryear is a must stop for any fan of Old Route 66. These are original gas stations from the hey-day of the Mother Road.

Vintage gas pumps and highway memorabilia are on display at Bill Shea's filling station on Route 66 in Springfield.
Ed Waldmire's Cozy Dog

When in Springfield another "must stop" is the Cozy Drive In with its famous Cozy Dogs. The Cozy Dog is one of a kind! When you visit the Cozy Drive In please never, never call it a corn dog. The original Cozy Dog was invented by Ed Waldmire while he was in the Air Force stationed in Amarillo. It was such a hit on the base that after he was honorably discharged he decided to sell them in his own hot dog stand. There was only one problem - the name! Ed called his invention "crusty curs" - a name that worked great in the military but didn't go over too well with Ed's wife. After some debate the name was changed to "Cozy Dogs" because after all, they were so good that you couldn't eat just one. A pair was much better and a lot more cozy. Ed opened his hot dog stand in 1949, then moved his store to Route 66 a year later. The Cozy Drive In has been operated by the Waldmire family on the Mother Road ever since.
For over 50 years the Waldmire family has been serving their unique hot dog on a stick, french fries and lots of great times here at the Cozy Drive In. This is not the original 1950 building however. It was torn down in 1996 to make way for a new chain store. They did rebuild the Cozy Drive In on the grounds of the old Abe Lincoln Motel right next door though. The Cozy Dog tradition still lives in Springfield. Today the diner has a fine selection of Route 66 memorabilia, souvenirs, and good food. In fact on July 4th this year Sue Waldmire will be in Chicago and the Cozy Dog will be featured as a "Taste of the State" winner! If you haven't had a Cozy Dog you've missed a real award-winning Route 66 experience.

Inside the Cozy Drive In you will find a large selection of truly authentic Route 66 artwork, postcards and posters celebrating the many attractions on Route 66 and the Mother Road herself. These wondrous works of art were all done by the master road wanderer himself, Bob Waldmire. Bob's dad, Ed, invented the Cozy Dog so Bob is as much a part of Route 66 as the celebrated diner. Bob has traveled Route 66 many times in his vintage VW Bus. To meet Bob on the road is to have a blast from the past for he truly is the original Route 66 Hippie. There's a good chance you will meet him too on the Mother Road if you travel it often enough.

Bob Waldmire
Our Lady of the Highway

Traveling Route 66 going south out of Springfield you will pass this famous highway shrine just south of Waggoner. Route 66 has always had a down side in that some stretches could be particularly dangerous with steep hills, blind curves, and narrow bridges. There's no doubt about it; Route 66 could be a very dangerous road sometimes. The Our Lady 0f the Highway Shrine was placed along Route 66 back in 1959 to remind motorists of the potential dangers and provide a place to say a prayer for a safe journey. You certainly wouldn't find something like this along the Interstate today would you? Today the Marten family who just so happens to live next door maintains the site. The shrine is located on the Marten family's farm so it doesn't violate any civil liberties, or separation of church and state, or public expression of faith laws. Yes, our country has changed quite a bit since the days of Route 66 - some for the better and some for the worse.
Photographs taken September 2002, June and September 2003
Click on an area or city of Route 66 on the map below to take a cyber tour of that section of the Mother Road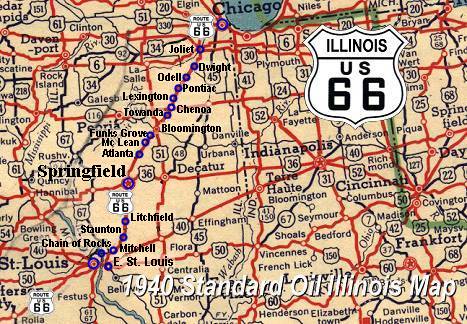 NAVIGATION NOTE: Buckle up and hold on to your mouse! These pages are arranged like the map above, from the western state border to the eastern state border. I have set up this site as if you were traveling from EAST to WEST, much like the Joad family in The Grapes of Wrath. You can click on the Route 66 shields to "travel" the Mother Road in either direction though. Or you can select any shield below to take you to that specific state.

To Litchfield,
Illinois

To Central Illinois
Route 66 Towns

---
© Copyright 2001-2004 GRandall Web Design Service