[HOME] [WESTERN AMERICANA GALLERY] [ROUTE 66 HOME] [ROUTE 66 WEST] [ROUTE 66 EAST]
Laguna Pueblo
Area
Los Lunas on the old Pre-1937 Alignment
There is a pre-1937 Route 66 alignment that leaves Albuquerque and heads to Los Lunas. To drive it you must make a left off Central Avenue onto Fourth Street and follow it to Bridge Street. Cross the bridge then make a left onto Isleta Blvd.; this is now Hwy 85. Follow this road into Los Lunas. You are on the earliest alignment of Route 66 as some of the old businesses along this route indicate.


1940 Post Card of old Motor Court Along Early Route 66 Alignment
The Post-1937 Alignment
In 1946 when Jack Rittenhouse came through the later post-1937 alignment was being used. This is the route mentioned in his guidebook. Today the post-1937 alignment of Route 66 leaves Albuquerque on Central Avenue crosses the Rio Grande and climbs Nine-Mile Hill to join Interstate 40. The land opens up after the climb up Nine-Mile Hill continue down the Interstate for about 12 miles to the Rio Puerco River and you will see an old steel truss bridge off to your right (heading west). Be sure to check it out, this is an old Route 66 bridge.
Rio Puerco Bridge is a through truss steel arch bridge that was build on old Route 66 in 1933. Today it is being preserved by the New Mexico State Highway Department.
Laguna Pueblo
This is an area rich in the history of the Native America. It is believed that the ancestors of the Laguna Indians have lived here since the 1300s. When the Spanish arrived in the 1500s they found the Laguna area well established with an agricultural economy and system of self-government. In 1699 the Spanish recognized the pueblo as one of the largest in the area. Today Interstate 40 passes through the tribal lands, but once Route 66 cut through the heart of the 42-square mile pueblo lands. Driving Route 66 through the area is like steeping back in time. A word of caution though, taking pictures on Laguna land is generally not allowed. Before taking any photographs ask local village officials for permission.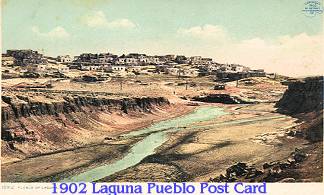 Budville, New Mexico

Leaving the Laguna Pueblo on old Route 66 you will see many remnants of the Mother road. Stone foundations and stone ruins dot the landscape. This is a beautiful drive down old 66 but pay particular attention though, many of the old stone buildings were made from native stone and blend into the surrounding countryside. This collection of stone ruins along side old Route 66 just outside of Budville could have been an old, now forgotten, motor court at one time.

Budville, New Mexico was named for Bud Rice whose father built the first garage here in the 1920s. Bud and his wife, Flossie, ran a towing business here. It was quite successful too. Route 66 is a great road, but there is a dark side to her too. In 1967 Bud was murdered during a hold-up. His successful business must have attracted the wrong people. Flossie ran the family business for another 12 years before finally closing in 1979. This is a small community that was obviously dependent on the trade Route 66 brought. The trading post was closed when I came through and the old cafe hasn't served a hot meal in some time by the look of it.
Cubero, New Mexico

Vila de Cubero is a small community located under the shadow of Mt. Taylor a few miles west of Budville. Ernest Hemingway lived here for a short time while writing his story, "Old Man and the Sea." The Trading Post is still open and still serves the local population. Alas, the two motels have long since closed their doors. Cubero was never anything more than a small hamlet and Jack Rittenhouse barely mentions it. He just says that along the road (Route 66) are gas stations, cafes, stores, a few cabins, but no other accommodations.
Photographs Taken September 2002
Click on an area or city of Route 66 on the map below to take a cyber tour of that section of the Mother Road

NAVIGATION NOTE: Buckle up and hold on to your mouse! These pages are arranged like the map above, from the western state border to the eastern state border. I have set up this site as if you were traveling from EAST to WEST, much like the Joad family in The Grapes of Wrath. You can click on the Route 66 shields to "travel" the Mother Road in either direction though. Or you can select any shield below to take you to that specific state.

To San Fidel

To Albuquerque

---
© Copyright 2003 GRandall Web Design Service