[HOME] [WESTERN AMERICANA GALLERY] [ROUTE 66 HOME] [ROUTE 66 WEST] [ROUTE 66 EAST]
Arizona and the
Painted Desert
---
Between the Arizona - New Mexico state line and Holbrook, the first large town one comes to, are small pockets of Route 66 history everywhere. Starting at Lupton, and moving west through Allantown, Houck, Querino, Sanders, Navapache, Chambers, and Navajo the feel of the old road surrounds you. These small settlements were railroad sidings, trading posts, and pioneer communities. When Route 66 came through business picked up. Gas stations, motor courts, and a plethora of tourist shops and trading posts sprang up to service the traveler.
| | |
| --- | --- |
| | |
| | Route 66 approaches the border of New Mexico and Arizona from Gallup, New Mexico through the colorful Navaho Sandstone country to Lupton, Arizona. It is a scenic winding road that epitomizes the romance of the great southwest; the adventure in the journey. This is the romantic land of Spanish explorers, nomadic native herdsmen, rowdy cowboys and brazen outlaws. Kit Carson, Ned Beale, Peg Leg Smith, among other great or infamous characters all passed thus way once. I felt the history of the land come alive as I traveled Route 66 to Arizona. Sometimes I think this is my favorite part of Route 66. |
| Of course I've always liked the Trading Posts and on both sides of the border in Lupton, Arizona, there are a variety of fascinating Indian Trading Posts to chose from. Many of these businesses, like the Tee-Pee, have been here since the hey-day of Route 66 and are still going strong. At the border, Interstate 40 and Route 66 run side by side through the canyon, the traveler is funneled past these unique left-overs from another era. This is true Southwestern Americana at its best, at least as seen through the eyes of a child. I don't remember a lot about my family vacations along Route 66 years ago, but I do remember the Trading Posts. | |
Ft. Courage is a modern Trading Post just off
the Interstate in Houck, Arizona that was
inspired by the television show F-Troop.

Lest we forget, other main-stay highway
businesses suffered with the opening of the
Interstate such as this garage and service
station in Chambers, Arizona.
The Painted Desert Trading Post

Pinta Road is just a lonely exit out in the desert a few miles east of Petrified Forest National Park. There are no services here and most Interstate travelers pass it by without giving it a second glance- Holbrook is just down the road. But it is in this area that Route 66 can be seen as a true ghost. I drove north of the Pinta Road exit down a dirt road almost a mile where I came to the crumbling asphalt of a once major highway. Route 66 cuts through the Painted Desert, a forgotten line of dark gray against the desert shrubbery, a ghost road winding its way to an even ghostlier destination.

Once I found the remains of Route 66 I turned towards the west and the setting sun. There was something I wanted to see, I had a destination in mind. I only hoped I would get to it before the sun set and leave me in the blackness of desert night. Route 66 is pitted and rough but passable along this stretch. I continued on for about two and a half miles and came to one of the loneliest ghosts I have encountered on Route 66 in all my travels. All alone surrounded by the vast desert stood the shell of the once great Painted Desert Trading Post. As the shadows lengthened and the sky turned a brilliant red I stood in the silence and pondered what once went on here. Indeed, this place is haunted.

I guess my reflective mood was made all the more poignant by the knowledge that I along with my family had passed this way before. There is a good possibility that we even stopped for gas or a cool soda here as this place, even then, was an outpost. But that was a very long time ago. Another era as history goes. Eisenhower was president then and he had just signed the Interstates into existence. Nobody knew, certainly not the proprietors of the Painted Desert Trading Post, what that would mean to Route 66 in the future. The faint sound of an 18-wheeler shifting gears on the Interstate miles away drifted by my ears, but other than that it was quiet, so very quiet. All the voices had been stilled years ago.

A few steps away from the trading post towards the west are the remains of an old concrete bridge over the Dead River. Fitting name isn't it? Lonely evidence that this abandoned road once carried a nation west. The sun had set and the desert was getting dark fast. It was time for me to leave. Holbrook was still aways away. I drove back down the bones of old Route 66. I thought of my father behind the wheel of our family car, driving into the night on this very road. I felt a little lonely too just then. I wished I could have talked to him, but like the silent trading post and crumbling old road he too had passed on some time ago. ~ Sept 2002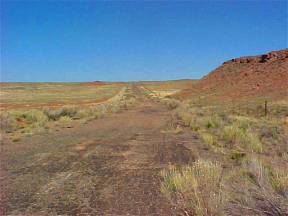 Route 66 is all but forgotten in the Painted Desert
Stewart's Petrified Wood

Dinosaur under construction.


Just one of many animated and still creatures you will see here. Artist Dave Elliston is building a new dinosaur for the trading post.

Driving down the I-40 from either direction you will notice many billboards advertising free petrified wood and meteorites 50% off. You are now approaching Stewart's Trading Post. This establishment is pure Route 66 funky. Strange and bizarre dinosaurs and a cacophony of colors, sights and just plain craziness assault your eyes as you drive in. There was another time when Rock Shops could be found all over the west. With the onslaught of modern progress and video games I suppose they are rather old fashioned. Most Rock Shops closed their doors years ago. Thankfully not at Stewart's Rocks and Petrified Wood. They are open and carry on the best traditions of the Old Mother Road! As you drive into the parking lot of the trading post you will instantly know that you've just found a super Route 66 attraction. Just be careful, there's a lot of cool items for sale. I couldn't help spending just a little more than I should have. Ah, but it was worth it.

Gazell and Charles Stewart welcome you to their Trading Post. Of course Charles claims that the real boss is Gazell. If you are looking for unique rocks, gemstones and fossils you are in the right place.
Photographs taken September 2002 & May 2003
---
Click on an area or city of Route 66 on the map below to take a cyber tour of that section of the Mother Road

NAVIGATION NOTE: Buckle up and hold on to your mouse! These pages are arranged like the map above. I have set up this site as if you were traveling from EAST to WEST, much like the Joad family in The Grapes of Wrath. You can click on the Route 66 shields to "travel" the Mother Road in either direction though. Clicking West Route 66 or East Route 66 will take you to the next town or area on the map in that direction. Or you can select any shield below to take you to that specific state.

To Holbrook

To New Mexico
Route 66

---
© Copyright 2003 GRandall Web Design Service