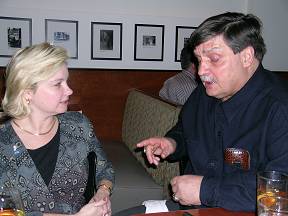 Melissa OBrien of Hampton and Michael Wallis (who is not sleeping by the way) discuss the importance of preservation along the Mother Road.
Without the support of Hampton Inn and their Save-A-Landmark® project all this would not have been possible. From the Route 66 Caravan last year, to our Washington DC trip Hampton has been a supporter all the way. They will continue to support the efforts of preservation along Route 66, in fact Phil Cordell, Senior Vice President of Hampton joined us in Washington DC. He was so impressed with everything we accomplished that Hampton will pay the expenses for Jim Conkle and Glen Duncan when they return to Washington DC in March for the Preservation Action lobbying. More about that on the next page.
Somebody Else Took the Picture!
We stayed at Hampton Inn Old Town Alexandria South when we were in Washington DC. Hilda Froelke, General Manager, and her staff couldn't have been nicer. They went all out for our group. After a long day on Capitol Hill we all paused for a picture.
(back row left to right) Patty Kuhn, Steve Henthorn, Frances Conkle, Quincey our Shuttle Driver, Diana Hutton, Glen Duncan, Jim Conkle, Michael Wallis, and Pat Duncan. (front row left to right) Melissa OBrien, Phil Cordell, and believe it or not Guy Randall.