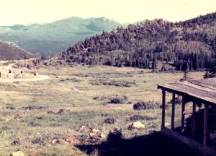 Caribou townsite in 1975, compare this meadow with the 1869 picture above.
Sam Conger discovered silver in the high country above Boulder, Colorado in 1868. By 1869 Caribou was a full blown town, and by 1875 had a population of 5000. It had its own newspaper, marching band, and brewery. Potosi street, Caribou's main street, was lined with shops, one church and many saloons. The Sherman House, the three story building in the lower right corner of the above picture, was Caribou's best hotel. The silver crash of 1893 dealt a death blow to the town. And a fire in 1903 wiped Caribou off the map; little rebuilding was done and Caribou became a ghost.

Emma
beloved daughter
Died Aug 7, 1879
2 yrs 2 mos

Agnes Julia
Born Mar 5, 1882
Died Nov 3, 1882
Life in Caribou was harsh, especially for children as these graves illustrate. Between the years of 1878-1882 Caribou had two epidemics.
Sad to say sometime after 1969 these tombstones disappeared from the cemetery, is nothing sacred?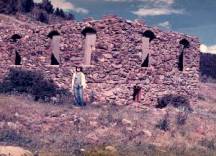 A short tungsten boom from 1910-1919 still couldn't wake the town of Caribou. These stone miner's barracks are from that period.